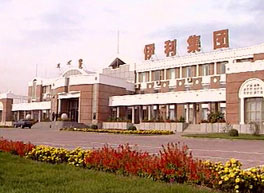 Inner Mongolia has national iron and steel and coal production bases. In addition, it has industries of forest, farm and animal husbandry products processing, electricity, machinery, chemicals,electronics,textile, sugar, paper making, and light industry. It has a developed agriculture and animal husbandry. The region is a national production base of cash grain, oil, and sugar. It is also an important animal husbandry base, ranking the top among the five major pastoral areas in the country.
In 2003 the economy of Inner Mongolia Autonomous Region is in an accelerating state with better economic structure, higher efficiency and more reserve strength. In the following three aspects: GDP, the added value of industry in enterprises with yearly earning over 5 million Yuan, and the average real estate investment increase of enterprises above the township level, the increasing rates rank first in all China.
Now the economy of Inner Mongolia Autonomous Region is in a fast-growing period. It is estimatedthat the GDP of Inner Mongolia in 2003 will be 209.3 billion Yuan, with an increase of 16.3% in comparison with that of last year. Such increase speed is the highest one since "The7th Five-Year-Plan".
To be specific, the fist industry has the increase of 5%, i.e.42.2 billion Yuan. Due to the natural disaster sand the reduction in the farming area, the total yield of crop has reached 13.5million tons, with a reductionof 450 thousand tons. In the field of animal husbandry, we have living stocks 32.58 million, a sharp increase of 44.9%.Diary products, meat and cashmere respectively have the increase of 63%, 4% and 6%.In the second industry, the total value of increase is 94.8 billion Yuan, an increase of 26.9%.
The total increase of the third industry is 72.3 billion Yuan, an increase of 11%. The total value of the investment in real estate has reached 120.2 billion Yuan, asharp increase of 68%, which is24% higher than that of last year. The investment mainly rests on industry, ecology, infrastructure and social welfare. Among these the investment in industry is 50.8 billion Yuan, a sharp increase of121%, the largest investment scalein recent years. The total volume of retail sales of consumer goods is 72.9 billion Yuan, anincrease of 12.8%. At thesame time the compressive rate of inflation of the consumer goods is 2%.