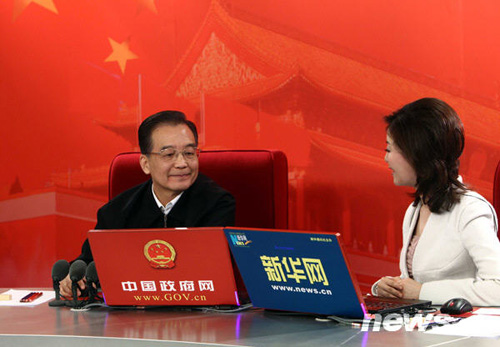 Chinese Premier Wen Jiabao (L) chats on-line with netizens at two state news portals in Beijing, capital of China, Feb. 27, 2010. The two major portals, namely www.gov.cn of the central government, and www.xinhuanet.com of Xinhua News Agency, jointly interviewed Premier Wen on Saturday with chosen questions raised by netizens. (Xinhua/Liu Weibing)
BEIJING, Feb. 27 (Xinhua) -- Chinese Premier Wen Jiabao on Saturday said he was determined to tame the "wild-horse" housing market and keep property prices at a reasonable level during his term as Premier.
Wen made the pledge in response to netizens' complaints about soaring housing prices during his online chat with internet users around the country and abroad at www.gov.cn and www.xinhuanet.com.
Soaring house prices are a top concern and major headache for many Chinese people.
Xinhuanet.com held an online survey to gauge citizens' concerns as the meetings of the National People's Congress and Chinese People's Political Consultative Conference approach.
As of 17:40 Saturday, 19,796 votes, or 12.31 percent, said housing is the major issue. The issue came in second to the income distribution issue, which garnered 13.76 percent of the votes.
Home prices have climbed since June last year, fueled by record bank lending and favorable tax breaks. Prices in January 2010 grew 9.5 percent from a year earlier, the fastest pace of growth in 19 months.
Runaway property prices have gone beyond what ordinary people can afford. The price gains have also prompted asset bubble concerns.
"I really understand the complaints. Housing prices in some cities have risen too fast," Wen said.
To rein in the market, the government has introduced a series of measures, including higher property sales taxes, an increased supply of affordable housing, land purchases restrictions and tighter control of bank credit.
"In China, with its huge population limited land, people's access to housing is a problem," Wen said, adding that the key to solving the problem is to increase the supply of housing.
Wen said the government will step up efforts to increase housing supply.
"The Chinese government will build five million affordable houses this year, after two million were built in 2009. Two million shanty houses would be reconstructed this year, in addition to the 1.8 million completed last year," he said.
Wen said the government will also implement land, finance and tax polices to enable more people to buy their own home.
He also said the government will use economic and legal means to curb property market speculation.
"We will crack down on illegal activities, including the hoarding of land, the driving up of house prices and the delaying of sales to earn bigger profits," Wen said.
"It is the government's responsibility to guide the property market. I am confident the government will ensure the healthy development of the property market."