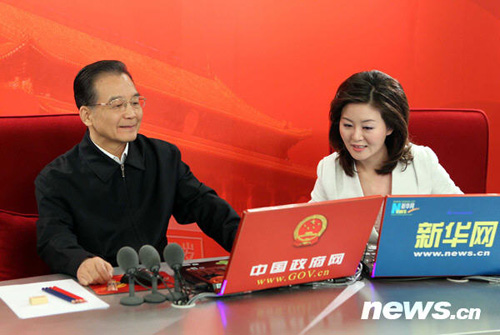 Chinese Premier Wen Jiabao (L) prepares to chat with Internet surfers on two state news portals in Beijing, China, Feb. 27, 2010. The two portals, the central government website (www.gov.cn) and the Xinhua News Agency website(www.xinhuanet.com), will jointly interview Wen, which will be shown live in both text and video. (Xinhua/Ma Zhangcheng)
BEIJING, Feb. 27 (Xinhua) -- China is still facing serious challenges in employment, though labor shortage has been found in booming cities in China's coastal areas recently, said Premier Wen Jiabao on Saturday during an online chat with netizens.
Wen attributed the labor shortage in coastal areas to three possible factors. "First, it may be the result of economic recovery, which enables the enterprises to improve production, get more orders and thus need more workers," he said.
"Secondly, it may be that the enterprises are looking for workers for certain professions while the unemployed are looking for other jobs," he said. "Some enterprises need skilled workers, which the society is widely short of."
"The labor shortage is also a result of the growing awareness among the workers of their own rights and interests," Wen said, adding workers would weigh different choices for better salaries.
The labor shortage in certain areas signals a stabilized and recovering economy, but the serious employment situation has not changed in general, Wen said.
"Every year 150 million migrant workers leave their rural homes to look for jobs in cities, 24 million urban unemployed are waiting for jobs, and the number of university graduates will hit a record high of 6.3 million this year, all adding up to our employment pressure," Wen said.
He also mentioned a report saying the number of farmers who go to hunt jobs in cities this year dropped 6 percent from last year.
"It is what we hope to see if they stay home because the economic situation in rural areas is getting better and their living conditions have improved," he said.
"We shall not only encourage migrant workers to be absorbed into the city life, but also work for a better life for those live in the vast countryside," he said.
"I hope the employment situation is better than last year," he said.